New pedestrianised spaces open in Aylesbury to help support local businesses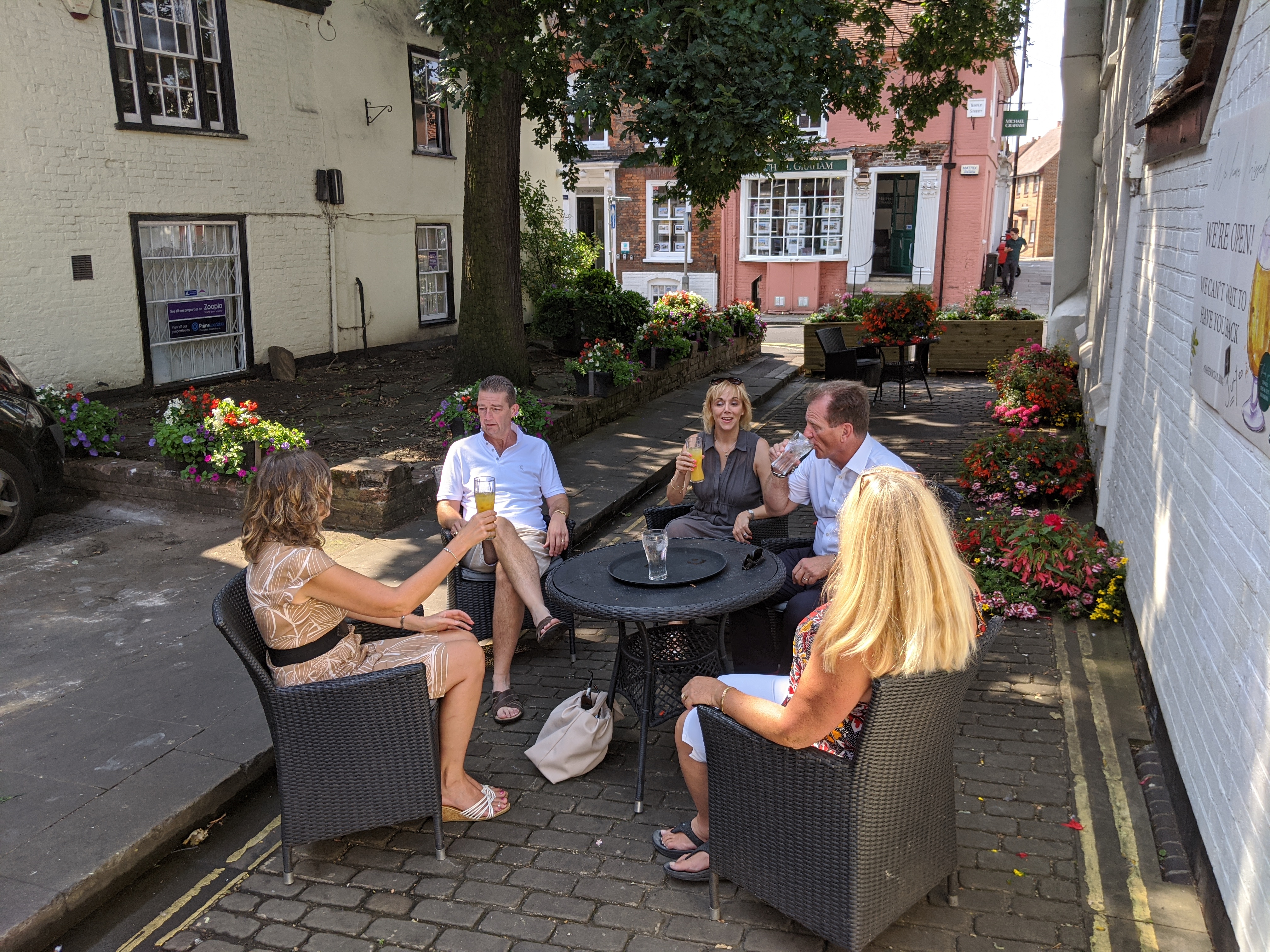 Photo: Visitors enjoying a drink in the new pedestrianised space in George Street.
The Aylesbury Town Centre Partnership and Aylesbury Garden Town (AGT) have been working hard to support local businesses during this challenging time. Following a temporary relaxation of street trading requirements, both George Street and Cambridge Street in Aylesbury have now been transformed into safe and charming places.
The far end of George Street has been adorned with beautiful planters and hanging baskets − bringing a whole new dimension and feel to the street. The Queens Head pub are planning on using this area so that customers can have a drink under the shaded cover of the tree, while being surrounded by beautiful planting.
Julie Ford from The Queens Head said: "Since the road closure, the Queens Head has become accessible and user friendly, and this gives us the opportunity to welcome new faces due to the outside areas being more inviting."
Cambridge Street will have a temporary road closure for the next few months from 10am in the morning until midnight, from the top end to mid-way down. This part of the pavement is very narrow and closing it to traffic means that visitors can safely socially distance from each other, without having to avoid traffic in the road. The Harrow pub and several other businesses in Cambridge Street hope to now place tables and chairs in the road and create a welcoming and safe place.
Poonam Gupta from Holy Cow Home commented: "There are so many interesting and unusual businesses down here in the back streets of Aylesbury. Cambridge Street is a hidden gem. Time to put it on the map!"
Steve Bowles, Chairman of the AGT Board and Cabinet Member for Town Centre Regeneration, stated "Town centre businesses have been hit hard by the coronavirus pandemic, so I'm very pleased that we've been able to launch these two new pedestrianised spaces, which will help support the local businesses," said Steve. "I'd encourage visitors to the town centre to check out the spaces. I'm sure they'll be pleasantly surprised by what they find."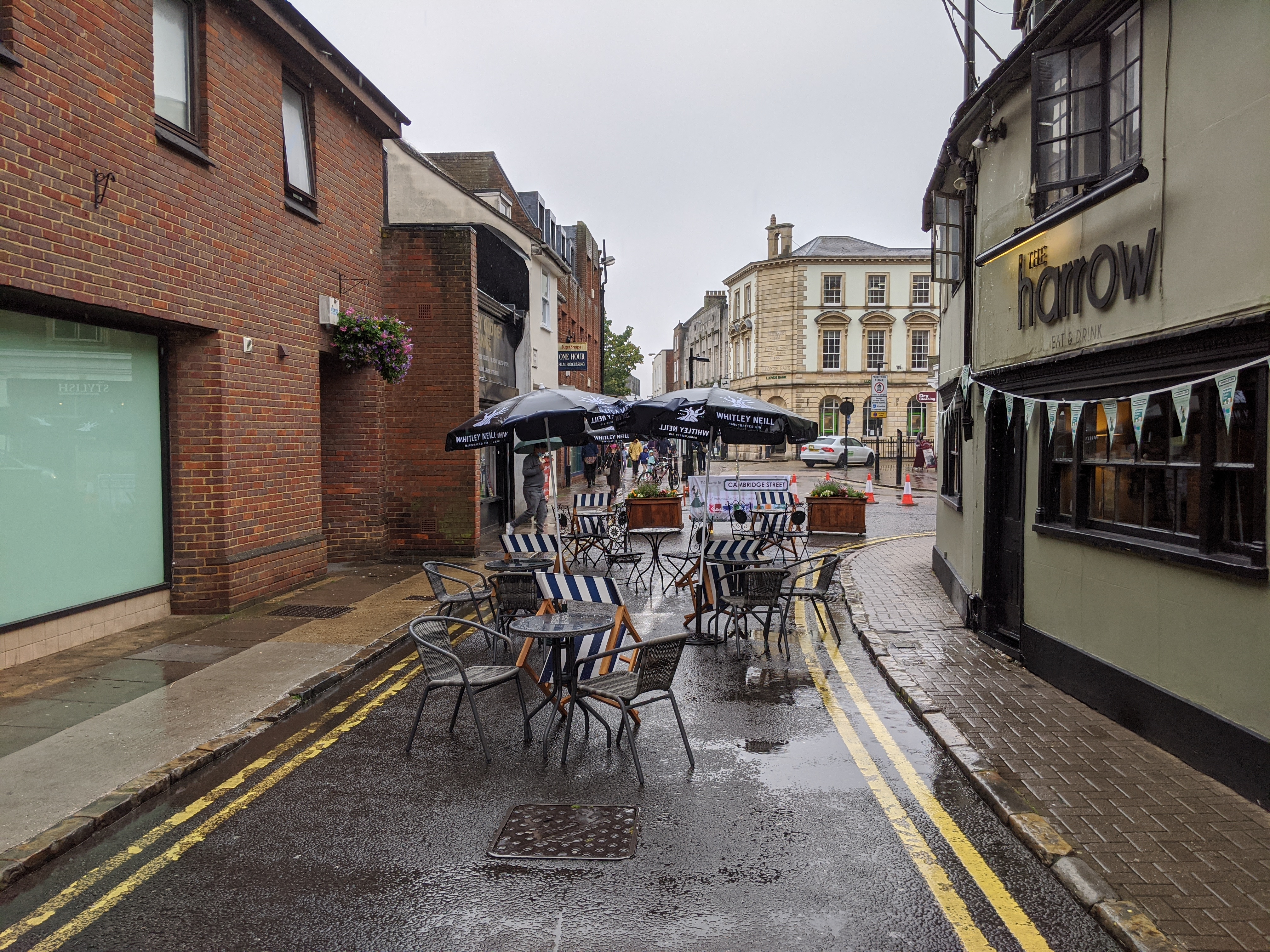 Photo: Cambridge Street with new outdoor seating space outside The Harrow pub.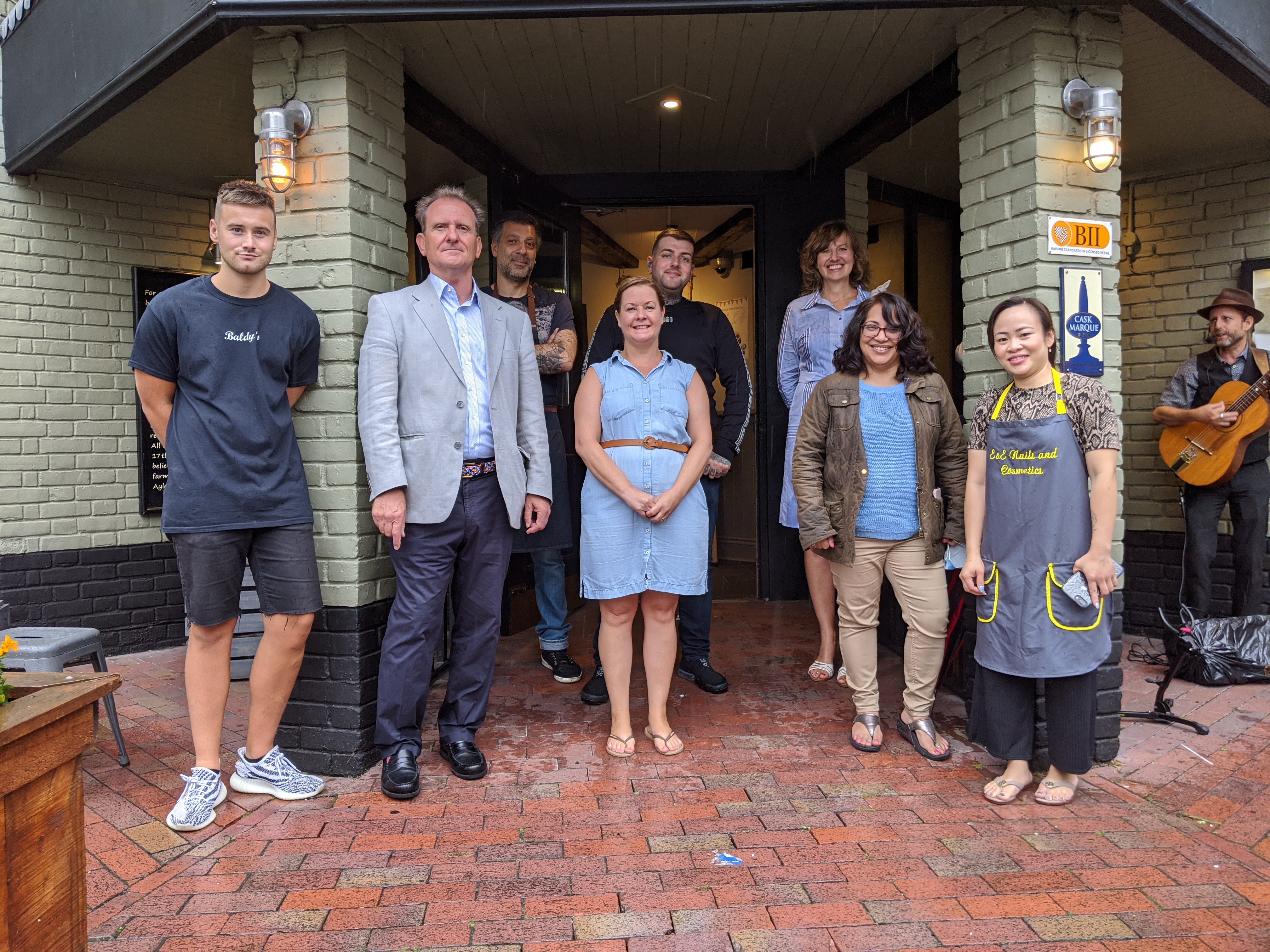 Photo: Steve Bowles, Chairman of the AGT Board and Cabinet Member for Town Centre Regeneration, with some of the owners of Cambridge Street businesses.