New phase in London Road improvement work
Improvement work to ease congestion along the A40 London Road corridor in High Wycombe continues on Monday (20 July) at Micklefield Road junction.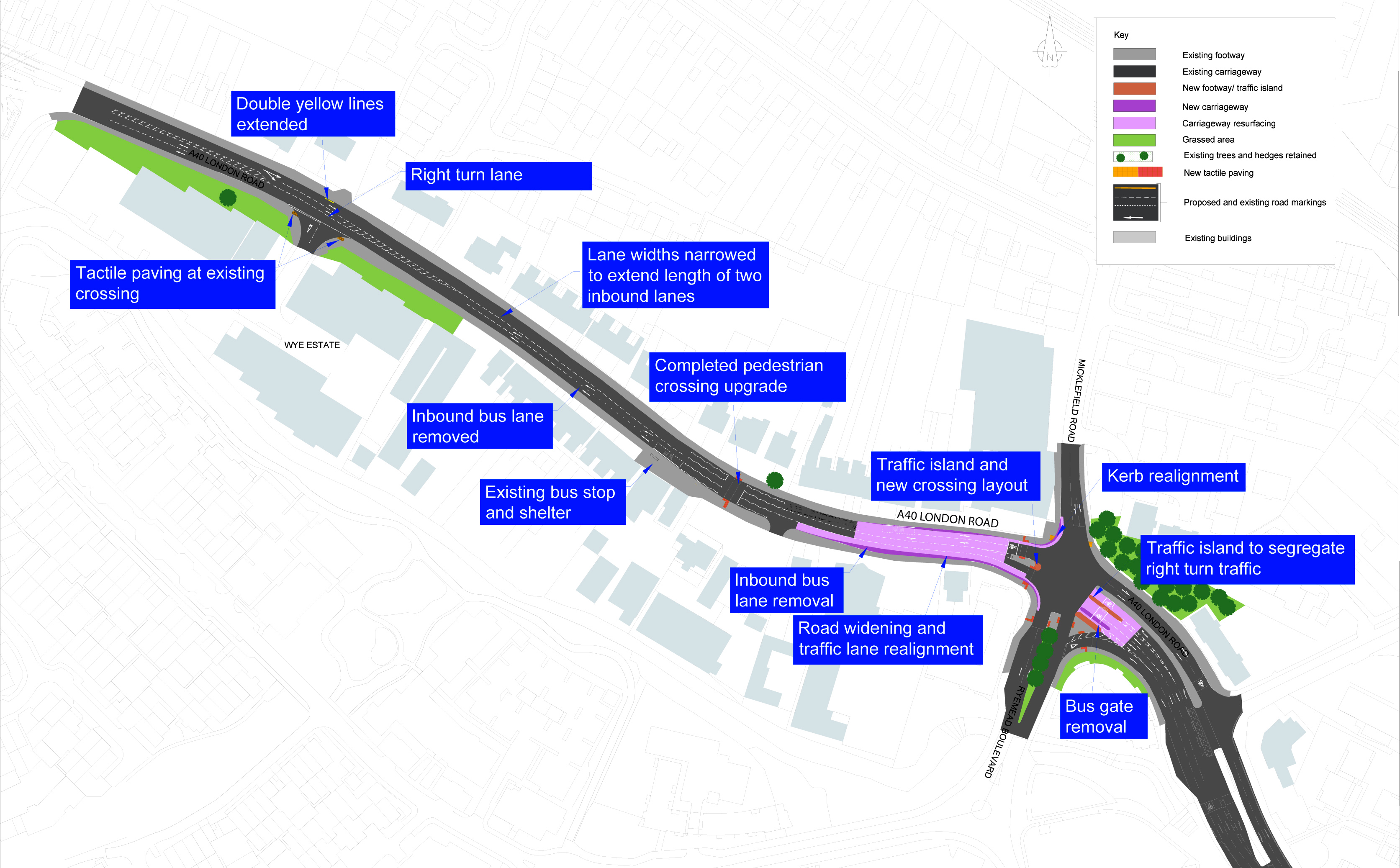 It involves replacing traffic lights with 'smart' signals that co-ordinate with others along the Loudwater to High Wycombe corridor to better control traffic flows.
Improvements also include widening London Road to improve capacity, realigning lanes, upgrading crossings, and removing a bus lane. Ahead of this, new utilities ducting has been installed under the southern footway, to make way for road widening.
Most of the work, involving lane closures and footway closures with diversions, will be done between 8am and 5pm, although some night work will be necessary when traffic flows are lower. Temporary traffic lights, which replicate existing signals, will operate while the work is done..
Improvements are expected to be completed in October, when the corridor's new 'smart' traffic control system will be tested.
A week later, on Monday 27 July, a fortnight of improvement work starts at the Gordon Road junction. During the first week, until Friday 31 July, a short section of Gordon Road will be closed between the roundabout and Princes Gate to allow new cable ducting to be installed. Diversions will be clearly signed.
From Monday 3 August to Friday 7 August, the road will be closed between 8am and 5pm, and reopened every evening.
The £6.6 million Buckinghamshire Council scheme, to improve six major junctions along the London Road corridor from Easton Street to Loudwater, includes linking traffic lights using queue detection technology to help traffic flow better, installing six variable message signs,  introducing five dedicated turning lanes, upgrading five pedestrian crossings, and installing one new crossing.
Junction improvements at Hatters Lane, Gomm Road and Rayners Avenue have already been completed, and traffic light control upgrades at Hammersley Lane will be done by October.
Nick Naylor, Cabinet Member for Transport, said: "This is an important route in and out of High Wycombe, and I understand people's frustrations when they get held up by congestion. The new 'smart' traffic lights along the corridor will co-ordinate with each other to better manage traffic flow, and make journey times more reliable.
"We've completed a lot of work, but there's still a lot to do before we finish later this year, and we're doing our best to minimise delays. We've studied the latest traffic flow information and adjusted our working times to suit, and I hope people will bear with us. If there are delays, please accept our apologies."
The A40 London Road corridor improvements project is a partnership project between Buckinghamshire Council and Buckinghamshire Local Enterprise Partnership with funding secured from the Local Growth Fund, and DfT's National Productivity Investment Fund.